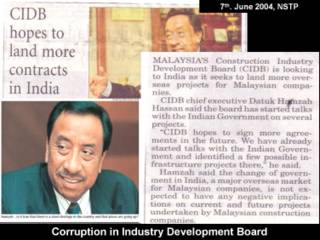 CIDB FAILED TO SERVE IT'S PAYING CUSTOMERS
Every contractor, big or small has to contribute o.25% of their contract value to CIDB for each and every project they undertake.
Presumably, the contribution required is to finance the DEVELOPMENT & COMPETENCY PROGRAMMES to prepare the Malaysian contractors to achieve quality and efficiency in the field of project management and construction management and to nurture the contractors and the Malaysian construction industry players in general, such that they will be on par to international standards. CIDB was set up by the Mahathir's Government to lead the CHANGE & IMPROVEMENTS. At such, they are held responsible to lead and manage the construction industry in TOTAL.
All the last few years, CIDB had spent it's time and moneys (collected from all the contractors) to set their targets for projects in India, Sri Lanka, etc. This had benefitted some large international corporations such as IJM, Binapuri, Roadbuilders, MMC, Lankhorst, etc, etc. BUT what have all the other contractors benefitted from CIDB's international projects?????? The tens of thousands of paying Class 'F' contractors, Class - E, D, C, B, BX, and many Class 'A' contractors???? Each and everyone of the contractors are contributing to CIDB's coffers, paying for all the expenses incurred and the amount collected is in excess of billions of ringgits. WHAT HAVE CIDB DONE FOR THEM??????
Does Malaysia, particularly the construction sector needs the existence of CIDB? I have asked hundreds of contractors this questions and so far, everyone is affirmative that CIDB has developed into a parasite; a Hirudinea, a "Leech" and a "Pain-in-the ASS".
What has the Government done for the contractors, as far as CIDB is concerned? Why do they collect the hundreds of millions yearly so that they can go to INDIA & SRI LANKA? What has Datuk Hamzah done for CIDB and what has Tan Sri Wan Abdul Rahman (ex-JKR Director General, and now CIDB's Chairman) done to benefit the contractors in the industry, particularly the Class 'B' down to Class 'F' contractors? Some class 'A' contractors did benefit from CIDB (Indian & Sri Lanka projects) but many Class 'A' contractors are not getting anything from CIDB.
WILL PAK-LAH DO SOMETHING ABOUT CIDB & REVAMP THE WHOLE ORGANIZATION? WITH DUE RESPECT TO ALL THOSE IN CIDB, THEY DO NOT DESERVE ANY RESPECT FOR THEY HAVE DONE NOTHING, ABSOLUTELY NOTHING FOR THE INDUSTRY, EXCEPT TO SPENT ALL THE MONIES COLLECTED FOR THEIR TRIPS TO INDIA, SRI LANKA, ETC, ETC.
I HAVE BEEN WITH THE CONTRACTORS FOR MORE THAN 20 YEARS AND I CAN TESTIFY TO WHAT I'VE SAID!!!!! CHALLENGE ME!