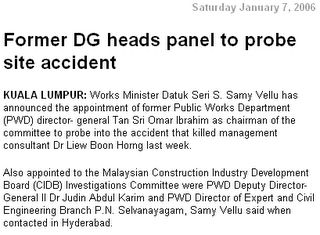 Former Public Works Department (PWD) Director-General Tan Sri Omar Ibrahim was appointed by the Works Minister Datuk Seri Samy Vellu to be the chairman of the committee that will probe into the accident that killed management consultant Dr Liew Boon Horng.
This committee was set up within the Malaysian Construction Industry Development Board (CIDB) as the Investigations Committee and will include current PWD Deputy Director-General II Dr Judin Abdul Karim and PWD Director of Expert and Civil Engineering Branch P.N. Selvanayagam. Other members of the committee would be selected by Tan Sri Omar in consultation with the Works Minister and the CIDB.
I am sure Tan Sri Omar, a person who commands high respect, will do his job thoroughly and efficiently. Tan Sri Omar is recognised as a NO-Nonsense guy and he doesn't curry flavour or compromise his integrity.
But what suprised me is two key elements:
First, why is CIDB involved in such investigation? In the first place, CIDB had never shown to be involved actively in monitoring or controlling the construction projects in whatever role that can tangibly be said to have proactively, nor productively, being a partner of the industry other than to spent time in India trying to secure some projects and selling it to the few high profile Malaysian contractors for a percentage of commissions.
Since the setup of CIDB decades ago, what had been seen of CIDB in the eyes of contractors and property developers is that they exist to collect 0.25% of the project contract sum from the contractors for each and every construction project exceeding $500,000. Thereafter, nothing beneficial had been done to assist the contractors other than to ensure that the contractors register themselves with them, buy the green cards issued by CIDB, and apart of this, is the great Indian mission of projects.
Each year, more than RM20 billion worth of government project had been executed and awarded and out of which, 0.25% will be worth RM50 million. Should we include private projects, the collections by CIDB would be worth around RM100 million. After collecting these contributions from the contractors, what had the contractors benefitted? Absolutely nothing; asked any contractors!!!
As the industry regulators and promoters, CIDB should had never played a beneficial role to contribute positively the development of the construction industry standards, in particular, the standards of construction methodology and quality of the works. Somehow, it's role is somewhat like a tax and debt collector, licence operator, and now, the new role is investigator and policemen of the contractors.
Is it the way that Malaysian government set up regulatory institutions?
Take an anology: If parents duty to their children is to police them of their activities and punish them if they are naughty; cane them when they don't study or fail in their exam; scold them if they don't behave; and slap them if they are delinquent; would you think the children will become a better person when they grow up? Would you think the children will learn to behave better or improve themselves from such enforcement?
Governmental institutions such as CIDB, DOSH, City Hall, etc, should be playing active and proactive role in development and progression. It is not about enforcement and policing that can contribute to national development and improvement. It is being involved with the industry, understanding their weakness and needs, promoting quality, safety, and competence that we can see improvements and maturity.
The Human Resources Ministry wants answers from the Construction Industry Development Board (CIDB) on the 700 cases of negligence at project sites reported since 2003. Datuk Seri Dr Fong Chan Onn said his ministry would meet with the board this week to ascertain what was wrong in the industry. "We want to know the outcome of their investigations as CIDB has the power to issue stop-work orders and take action against errant contractors. We are serious as we do not want a repeat of the tragedy which happened in Sri Hartamas (Kuala Lumpur) last week," he said. Dr Fong statement was in response to media reports about the 700 cases, which included 150 high-profile incidents.
I am not sure if Dr Fong understands the role and responsibility of CIDB and also whether CIDB understand their purpose of existence.
Secondly, I am puzzled at the committee that is set up to investigate the incidence at Plaza Damas. It seemed to consist of structural engineering design engineers. But the key problem that is involved in the incident involves the operation management of the construction activities, the mechanical engineering operation of hoisting steel moulds, clamping and locking of the craning and hoisting system, how the workers and supervisors control and monitor the craning, hoisting, fixing, removing and stacking the steel moulds. This concerns, project management, construction site operation management, tower-cranage management, safety and risk operation management of work activities and tasks. Nothing, absolutely nothing, is involved with structural engineering design.
It puzzles me - are they going to investigate the steel mould design? Are they looking into the reinforced concrete design? Are they going to check and analyse the scaffolding design and installation? What for? What the F**k for?
Primarily as I see it, the investigation should be centered on how the steel moulding operations are carried out from hoisting, installation, removal and stacking; how the safety of the work's operation were planned, monitored and controlled; and whether there any risk management - identification, quantification, response planning, risk monitoring, risk control, and workaround management? The analysis should include the methods of operation and resource competence such as the competence and control of tower-crane operation, how contractor execute and supervise their work and task operations, how they manage safety and risk, and whether the consulting engineers and architects of the project had played their professional roles of project management.
The committee should therefore include those who understand tower-crane operation, steel formwork system operation management (not design), construction management safety and health experts, mechanical engineers to analyse the hoisting and installation process for the steel moulding formwork system, project management experts in high-rise building construction, and construction-risk system managers.
At such, if the investigation committee is crowded with structural design experts, and government servants, including CIDB staffs, the presumption is that they understand nothing of contractors' operation management and process. Even those purported associated consultants of CIDB are good talkers, and none have been experienced as contractor's operation managers or had been construction site managers who had been involved in high-rise building construction management process in the role of the contractor's operation.
Unless you are been involved with the contractors in construction process and management role, it is hard for government servants irrespective whether they are ex-JKR or ex-consulting engineers, to be able to have insights to the real emphirical problem that caused such incident.
Fantasy and fallacy always prevail... I hope Tan Sri Omar truly understand and discover the profound knowledge of the contractor's operation.