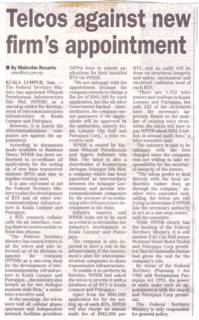 WPISB

ONE ADDITIONAL REGULATORS - THIS TIME, IT'S FOR TELCOS.
In Malaysia, whenever the Government wants to improve it's administrative efficiency, instead of utilising existing collosal of human resources that were available, they always choose the easy way out - set up another regulatory body and get the industry players to pay for it.
CIDB was one of them. It was set up to improve the quality and standards of the construction industry and to provide the necessary integration of industry and governmental information, communication, knowledge, expertise, and statistics that the industry players will be difficult to achieve if they were to act alone. CIDB charges 0.25% of the project value for each and every projects that is valued above $500,000 in contract sum. Each year, the government spends more than $20 billions for projects and the private sectors also spends many billions on projects. Work out the arithmatic, and you will know how much CIDB had pocketed. But what had the industry players benefitted from CIDB? What is the major activity of CIDB? India, Sri Lanka, Vietnam - they are there!!!! What were they doing there? CIDB became just another contractor whose interest is to get turnkey projects in India and Sri Lanka and Vietnam. They collected billions of ringgit to fund their salaries and to invest in India.
Real Estate and Housing Developers Association (REHDA) has submitted a memorandum to the Government proposing the suspension of the 0.25% levy on contract value paid to CIDB as it has failed to fulfill its role in meeting the construction industry needs. In its memorandum, REHDA said suspending the levy would help ease the industry's financial burden.
Betty Chew, the MP for Melaka and State Assemblywoman for Durian Daun made a public statement as follows:
"Apa gunanya menyumbangkan 0.25% nilai projek kepada CIDB bila pemaju tidak menerima faedah yang dijanjikan? Kerugian RM150 juta sebulan adalah jumlah wang yang besar. Oleh itu, adalah lebih baik wang RM400 juta yang disumbangkan oleh pemaju sendiri kepada CIDB dikembalikan oleh CIDB kepada pemaju sebagai satu bentuk bantuan kewangan. Ini akan membantu menggerakkan balik industri pembinaan dan juga membantu ekonomi negara."
Recently, the Selangor Government imposed new requirement to all developers requiring them to register with Lembaga Perumahan dan Hartanah Selangor (LPHS) and pay a registration fee of 0.1% of their gross development value. Developers are already registered with the Ministry of Housing and Local Govt and an additional layer is unnecessary. The new requirements also include regulations on Bumiputra lots to be predetermine by LPHS on the developer's layout and building plans while another ruling requires the developers to deposit 40% of the overall development cost of a project in a bank before approval is given for land conversion.
New regulations and requirements slapped by Selangor's authorities are costly, duplicative and bureaucratic, as builders already face enough Federal legislation, the Real Estate and Housing Developers' Association (REHDA) said.
"Malaysia's housing industry is already one of the most regulated in the world," said Datuk Jeffrey Ng Tiong Lip.
Now, it's Telcos turn!
The Federal territory Ministry has appointed Wilayah Persekutuan Infrastructure Sdn Bhd (WPISB) as a one-stop centre for development of telecommunications infrastructure in KL and Putrajaya.
WPISB has been authorized to coordinate all applications for the setting up of new base transceiver (BTS) and also to legalize existing ones.
WPISB is owned by Yayasan Wilayah Persekutuan and Ingres Software Sdn Bhd (a shareholder of Konsortium Jaringan Selangor Sdn Bhd). WPISB is also expected to have a role in the advancement of the Government's plan for telecommunication companies to share transmission infrastructure.
WPISB intends to charge a flat fee of $2,500 for processing each application for setting up a New Base Transceiver(BTS). Apart from the $2,500 application fee, telcos will also have to pay $2,000 for the setting up of each BTS and also charges for an annual audit fee of $2,000 per BTS for auditing the structural integrity and safety, mechanical and electrical, & radiation level of each BTS. There are 1,152 telco towers in Kl and Putrajaya.
Base on the fees, the telcos will have to pay WPISB about $2.3 million in audit annual fees, and multi-millions for processing and application fees annually.
The industry players are said to be unhappy with the fees charged since the company was not willing to take responsibility for the structural integrity of the telecommmunication towers.
"We are unhappy with the appointment because the WPISB intends to charge a flat fee of $2,500 for each application, but like all other Government-back intermediaries, they cannot guarantee if the applications will be approved by the authorities, namely KL City Hall and Putrajaya Corp," a telco executive said. integrity of the towers.
So, the setting up of such a body is to collect money, do some paper works and send those papers to the authorities for approval. Other that these, WPISB do not provide any form of productive service.
Then, why is there a need to add another layer to the existing many layers of red-tape? Why can't the telcos be allowed to communicate and liaise directly with the relevant authorities? Is middleman management a necessity in Malaysian Culture or UMNO culture?
But the telcos prefer to deal directly with the local authorities rather than go through another company!
Whatever it is and what is going to happen, the additional costs incurred by the telcos will be passed on to the consumers, similar to the CIDB fiasco. Is it what the Government prefers? Looks like, that's only thing they know how to do - COMPETENCY in creating cost and expenditure!
That's the price we pay for electing the NUTs into office.

Malaysia Boleh lagi!